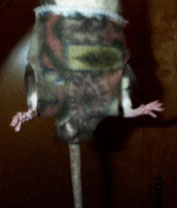 Rat Diapers
Are you tired of sticky urine marks on your furniture, remote control, computer mouse, and clothing? Don't want to put your pet through elective neutering surgery? Rat Diapers will solve your problem!
Soft, washable, reusable polar fleece
Easy velcro attachment on back
Available in seven colors: teal, burgundy, taupe, white, pink, baby blue, and camouflage (pictured at left).
Diapers come in packs of 10.
Author's note: The products on this page, including the rat diapers, are for humorous purposes only. They do not exist for sale.